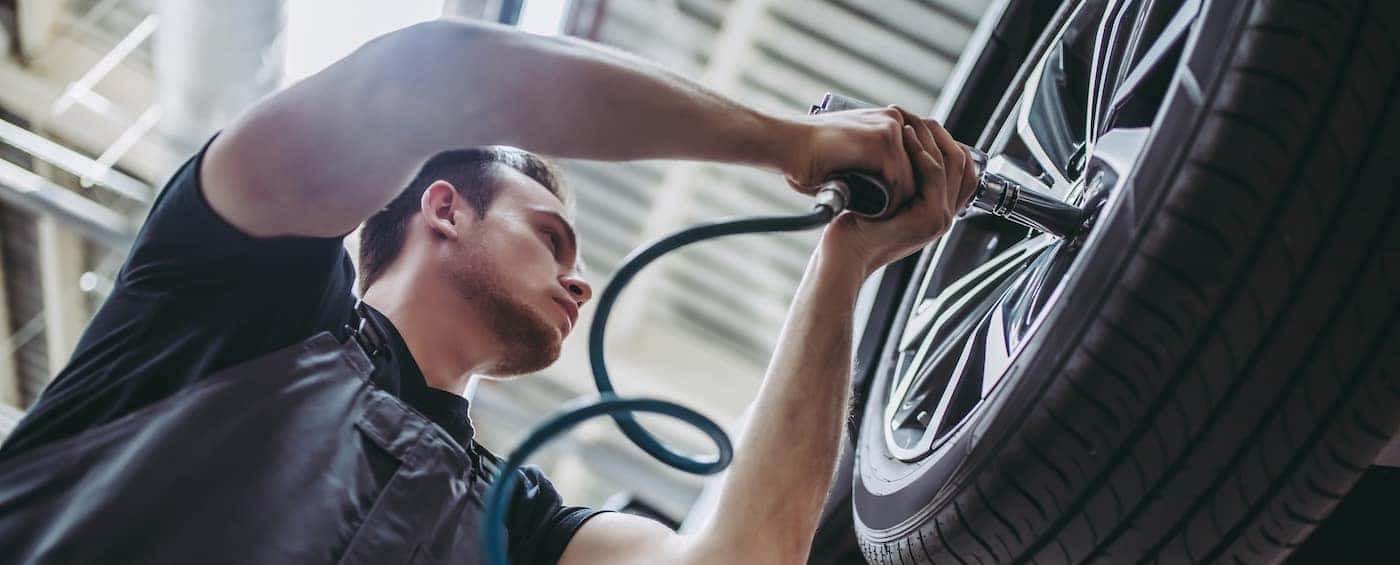 In a perfect world, all of your tires would wear out at the same time. However, we all know that, when it comes to tire tread wear, things rarely work out so well. So, what causes tires to wear unevenly on the roads of Georgia and South Carolina? The causes of uneven tread wear may vary, but the most common culprits include improper tire pressure, wheel misalignment, and missed tire rotations! Learn more with the service team at Butler Auto Group.
---
---
How to Check for Uneven Tire Tread Wear
In some cases, appearance alone will be enough to indicate that you're dealing with uneven tread wear. Are one or more of your tires looking rough around the edges? Even this simple sign is enough to indicate a problem. You might also notice more shaking, reduced performance, or more difficult turns.
When all else fails, you can check for uneven tread wear using the penny test. Insert a penny into each of your treads, at multiple locations, and find out how much of Lincoln's head you can see. If there's a major difference between your tires, you're likely dealing with one of the following problems. If you can see all of Lincoln's head on any tire, it's time to trade up.
---
The Causes of Uneven Tread Wear
Are your tires inflated properly? – Tires are deceptively simple. In fact, even a small change in pressure can throw these components out of balance. Without the right tire pressure, one or more of your tires will make more contact than is necessary with the road, limiting performance and accelerating wear.
Are your wheels misaligned? – All four wheels have a proper alignment, but if you recently hit a big pothole or went over a curb, your suspension might be out of line. If your suspension and wheels are misaligned, one or more of your tires will drag against the road, leading to a greater degree of wear.
Have you missed your regular tire rotation? – The wheels which receive power from your drivetrain are going to wear down more quickly. So, the front tires will tend to wear faster than the rear tires on FWD cars. In order to ensure even wear, you'll need to have the tires rotated every 5,000 to 7,500 miles or so.
If you answered yes to any of these questions, you'll want to schedule service with the Butler Auto Group to see if we can solve your tire tread wear problems. Keep reading to find out why you'll want to get in right away.
---
Why Should I Have My Tires Serviced with the Butler Auto Group?
Tire tread wear can impact everything from fuel economy, passenger comfort, to your control in rain or snow–so there's no excuse to ignore these components! Schedule service today, or continue your research by finding out why you're hearing a noise when you turn the wheel.
Answering the question, "What causes tires to wear unevenly?" is the first step in maximizing the value of your tires. If you really want to get the most for your money, you'll need to come to the Butler Auto Group! Our trained and certified techs are trained to work with all makes and models, and since we operate all across the southeast, it's easy to find a Butler service center near Georgia or South Carolina. Contact us today to learn more about our services or our prices.