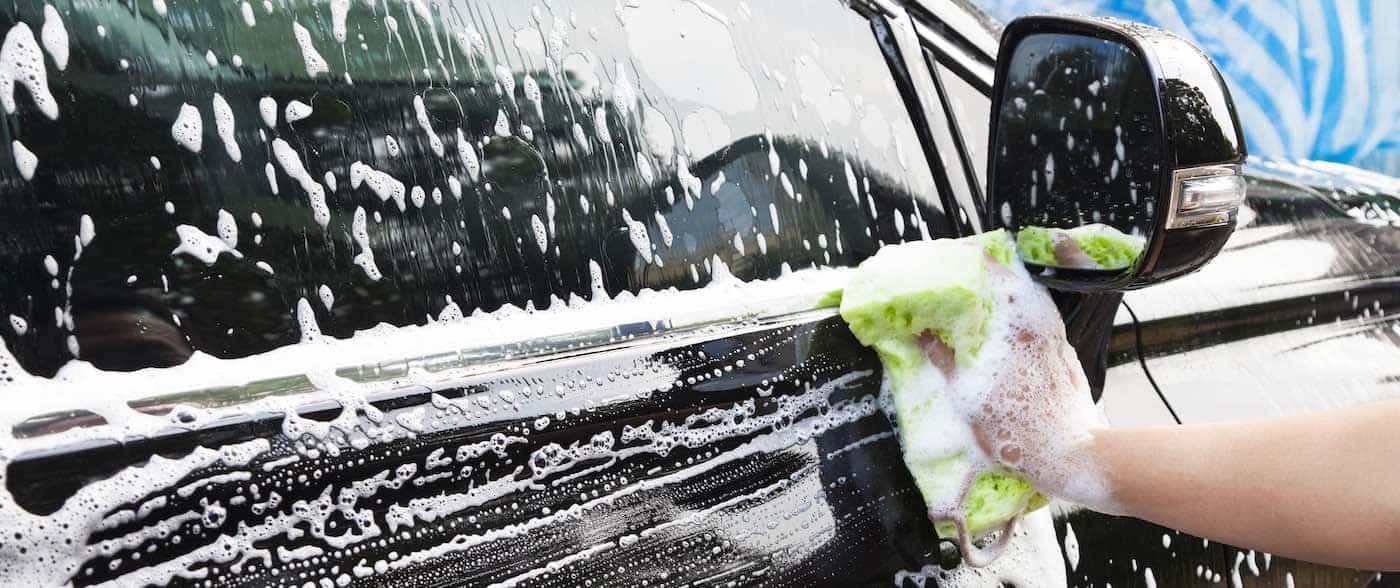 Washing your car regularly is a great way to keep it looking like new, but that's not all! Even more importantly, a good car wash can help to protect your vehicle's exterior from damage and imperfections which can lower its value over time. Here at the Butler Auto Group, we want to do everything in our power to keep you happy on the roads of Georgia and South Carolina. To this end, we'd love to teach you how to wash a car the right way.
---
---
Plan Ahead
The process of washing a car will vary, depending on the age of your car and the amount of care that it's received in recent months. If it's new or like-new, it probably only needs a quick wash and a fresh coat of wax. If it's older, or suffering from exposure, the cleaning process is a little more involved.
In the space below, we've described the full process in detail. You can decide for yourself what steps apply to your vehicle.
---
Rinse & Wash
Before you break out the soap, rinse your car down with a hose or a bucket of water. This will remove heavier debris that could potentially scratch your vehicle. Once this step is done, you'll want to use a bucket of soapy water to work your way over the entirety of the vehicle, starting from the top and moving down. Use a specialized washing mitt or trusted sponge to avoid leaving tiny scratches on your exterior.
For the windows, you'll want to use a specialized ammonia-free solution. Then, clean the wheels and tires with an acid-free pH-balanced aluminum wheel cleaner.
Some heavier grime might not come off with the first wash. If you're looking to buff out tree sap or other stuck-on contaminants, purchase a clay bar and work gently from spot to spot.
---
Apply Polish And/Or Wax
If you have the time to polish your vehicle, you'll want to use a dual-action polisher to achieve the right look. Using an orbital buffer or a soft towel to apply it will result in the most even finish, and the slower you work, the better the final result. A heavy-duty buffer may even end up catching debris, which would put scratches on your car.
For added protection, there's nothing like an additional coat of car wax. You'll improve the appearance of your vehicle, defend against UV damage, and help it to retain the effects of your car wash. Not sure which product to choose? You'll have the best luck with carnauba or polymer wax. The latter is more expensive, but it sets more quickly.
---
How Often to Wash a Car
Not even the most thorough car wash will do much long-term good if you're not cleaning the vehicle regularly. So, how often should you wash a car in order to achieve the best results? The answer depends on your driving habits.
If you often drive off-road, or you move to a location where you'll often encounter road salt, you'll want to wash your vehicle as often as possible. It's always a good idea to wash your vehicle as soon as possible after it comes into contact with potentially-damaging materials.
If you don't do much heavy driving, you'll want to wash every two weeks or so, and apply a fresh coat of wax every six months.
---
How to Wash a Car the Right Way: Tips and Tricks
Choose the right cleaning supplies. Although you might be tempted to use household products like dishwashing soap or windex, it's always better to use specialized products that you can pick up at a local parts department.
Wash without leaving marks. Clean your sponge or mitt regularly as you move from the top of your car to your wheel wells. This will ensure that you're not just moving dirt around. Use a natural sponge or a wool mitt, so you can be sure not to leave scratches as you go.
Dry your vehicle by hand. If you let your vehicle dry by air, you're likely to see swirl marks after the process has been completed. To avoid these, use a chamois or a terry cloth to dry your vehicle.
---
Let the Butler Auto Group Be Your Guide!
If you have any additional questions about vehicle care, the team at the Butler Auto Group is happy to help. Find out how to get rid of car mold, how to clean leather seats, or explore your vehicle's recommended maintenance schedule today! If you need help with a car detailing task, don't hesitate to contact your local Butler service department for advice.