Rotating Tires: An Easy Guide
Tire rotation is an important part of maintaining your car. Keeping your tires rotated will ensure that your car runs for longer and runs into fewer problems down the road. Why do people rotate their tires? Changing the position of the tires on your car means that your tires will wear more evenly, preventing you from needing to buy new tires and saving your car from more serious maintenance down the line. Pressed for time? Here's a quick guide on how to do a tire rotation at home.
How To Do a Tire Rotation
Rotating your tires is a different process depending on whether your car is front-wheel drive, rear-wheel drive, or all-wheel drive. Here's what you need to keep in mind if you're learning how to rotate tires at home:
Front-wheel drive: To rotate tires on a front-wheel drive vehicle, move the tires in the front to the back while keeping the side of the car the same (that is, front-left becomes rear-left). Moving from back to front, move your tires to the opposite side of the car (that is, rear-right becomes front-left).
Rear-wheel drive: This is just front-wheel drive in reverse. The tires in the back get rotated to the front without changing from driver to passenger. Going front to back, you switch the tires to the opposite side of the car.
All-wheel drive: This way is easier than the rest. You simply move the tires in an X pattern. Front-right becomes rear-left and vice versa. Front-left becomes rear-right and vice versa.
If you don't have time to rotate your tires at home, schedule service with the Butler Auto Group and let us take care of everything.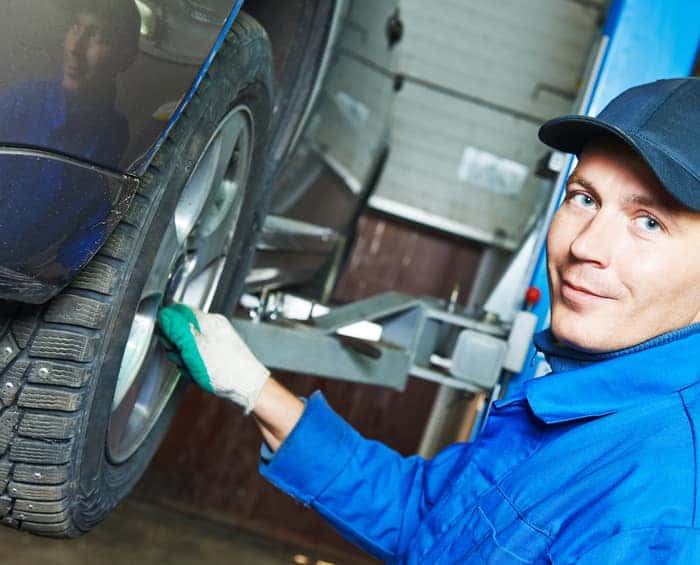 How Often Should I Rotate Tires?
Now that you know how to do a tire rotation, you might be wondering how often you should rotate tires. You should rotate your tires once every 5,000 to 7,500 miles to prevent uneven wear that may strain your axles or lead to an unpleasant shaking sensation. Keeping up with your recommended rotation interval won't just make your tires last longer. It will help you get more enjoyment out of every drive through Georgia and South Carolina.
Do Things The Butler Way
The Butler Auto Group wants to make shopping for a car a better experience. Our service and selection are unmatched among dealers in the area and you can check out that selection from the comfort of your own home. If you want to find out more, just contact us.
More from Butler Auto Group
At first glance, a sunroof and moonroof look nearly identical, but there is a difference between the two. A sunroof is a glass or metal panel in the roof of a car, truck, or SUV that can slide fully open or pop up to let in light and air. A moonroof is most often a clear…

A lease buyout is when you purchase your leased vehicle out-right before the end of the lease agreement. You have two different types of buyout options to choose from, so it's important to know the details in order to make the right decision. Learn more in this guide from Butler Auto Group. Visit Our Finance Center Lease-End…

Getting a car loan makes it easier for many Georgia drivers to afford a vehicle, but you may be asking yourself, "Can I get a car loan with no credit?" If you have yet to establish a credit history, don't panic. There are many no credit car loans out there available for you as well…